Scholarships
NDACo College Scholarship Fund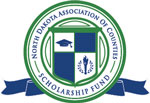 NDACo started a scholarship program for the children and grandchildren (ages 17-22) of county officials and employees in 1998. The scholarship fund is supported by corporate sponsors like Nationwide Retirement Solutions and county donors from across the state.
In 2010, the Amy Svihovec Memorial Scholarship was created in memory of Amy Svihovec, daughter of Linda Svihovec, then Treasurer of McKenzie County (now Auditor/Treasurer). Amy's scholarship has been supported by additional memorial funds of friends and family members, along with a long-term commitment from the Svihovec family.
Click here or on the Scholarship Logo to download the 2016 application. (For the 2016-2017 school year.) This file can be filled out on your computer, but may not be saved to your computer, depending on your software. If you cannot save it, try printing it or print to/convert to a PDF first.
If you don't have Adobe Reader, go to www.adobe.com and download it free.
BIG NEWS!
NDACo is increasing both the number of scholarships AND the amount! Beginning 2015, SIX scholarships will be awarded, and each scholarship will be for $2,000. As much as we would like to offer scholarships to all qualified applicants, we're happy to make this significant increase in our ability to help young people invest in their futures.
A selection committee reviews all applications carefully, judging them on community service, personal/professional accomplishments and academics with the emphasis on leadership potential.
2015 Scholarship Recipients:
Kendra Enget (Amy Svihovec Memorial Scholarship)
Daughter of Mountrail County State's Attorney Wade Enget. Senior at the University of Mary
Kimberly Ellwein
Granddaughter of Mercer County Soil Conservation Dist. President Ivan Ellwein. Sophomore at NDSU.
Megan Good
Daughter of LaMoure County Recorder Laurie Good. Senior at VCSU.
Amanda Krebs
Daughter of Stark County Benefits/Payroll Administrator Linda Krebs. Senior at NDSU.
Kylie Walthers
Daughter of Cass County Administrative Services Manager Melissa Varno. Freshman at UND.
Kristin Wright
Daughter of Traill County Highway Dept Office Manager John Wright. Freshman at Mayville State.
To read their essays on county government careers, click the link in the left column.
---

Four school seniors can win $2,000 NACo/Nationwide Scholarship
The National Association of Counties has partnered with Nationwide Retirement Solutions to offer four $2,000 scholarships for high school seniors. Winning applicants will have written a short essay describing why it's important for a public sector employee to start saving early for retirement.
The Nationwide/NACo scholarship program is intended to encourage high-school seniors to think about retirement.
Why spur high school students, many of whom haven't even started full-time work, to think about retirement? Three reasons – by applying for the scholarship the students:
May consider the financial impact of their decisions about college and their career and realize it is never too soon to start thinking about saving for retirement.
Begin to recognize the advantage of having a plan and implementing it sooner rather than later.
Identify specific actions that help prepare for a financially successful future.
To be eligible, applicants must be graduating high school seniors who are legal U.S. residents and their parent or grandparent must be enrolled in and contributing to a NACo 457 Deferred Compensation Program plan. In addition, the student must enroll in a full-time undergraduate course of study no later than the fall term at an accredited two- or four-year college. Deadline is typically in early March. Click link for details.
The NACo/Nationwide Scholarship is just one of the services arising out of a 33-year relationship between Nationwide and NACo. As provider of the NACo Deferred Compensation Program, Nationwide regularly reports to the NACo Deferred Compensation Advisory Committee on industry trends, updates statistics on the program and provides ongoing education on retirement issues. Together NACo and Nationwide look for ways to help county employees better prepare for their retirement.
For more information about the scholarship
All of the information about eligibility, judging criteria and notification process are on the NACo and Nationwide Web sites. For more information, go to www.nrsforu.com/scholarship.